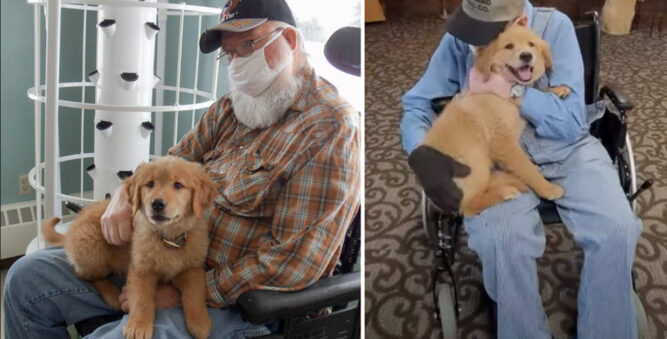 At a nursing home in Scotland, South Dakota, the team of dedicated staff members has a new addition: an adorable little golden retriever puppy named Gracie. Gracie is three months old and she comes to the home every day with her owner to visit the elderly people who live there. This is a concept that we've seen applied before, and the fact is, pet therapy is a real thing and a valuable service to provide to people who are in long-term care. The retirement home where Gracie "works" is the Good Samaritan Society in Scotland, South Dakota, and her role there is a valuable one.
Gracie is responsible for bringing "happiness and joy" to not just the people who live at the center, but also to the staff members. Working in this kind of care service is stressful and it can be hard to keep your morale up, I'm told. My wife did this kind of work a long time ago and she said that they had a little dog on staff, too. Every time the little gal entered the room (the dog, not my wife), everyone's faces lit up with big smiles. Gracie's human is Pam Stewart, the social services manager for the Good Samaritan Society – Scotland. The facility is for people who are retired or receiving assisted living services.
In a March 14 post on Facebook, the center said that Gracie is the facility's "new pet." She's been doing an amazing job so far and she started going to work with Pam not long after Pam brought her home. Stewart said that since Gracie started coming to work, she's been making some much-needed changes. In short, there are more smiles everywhere she goes, and that's what she cares about most. The residents love cuddling and loving on Gracie, and it gives them something to talk about besides the dismal stuff going on in the world.
When Gracie goes to work, she spends most of her day visiting the residents of the facility. Isn't this just heaven for a dog? All a puppy wants to do is play and be cuddled, and it sounds like a dream job for any pooch. Watch the news video about this story below.